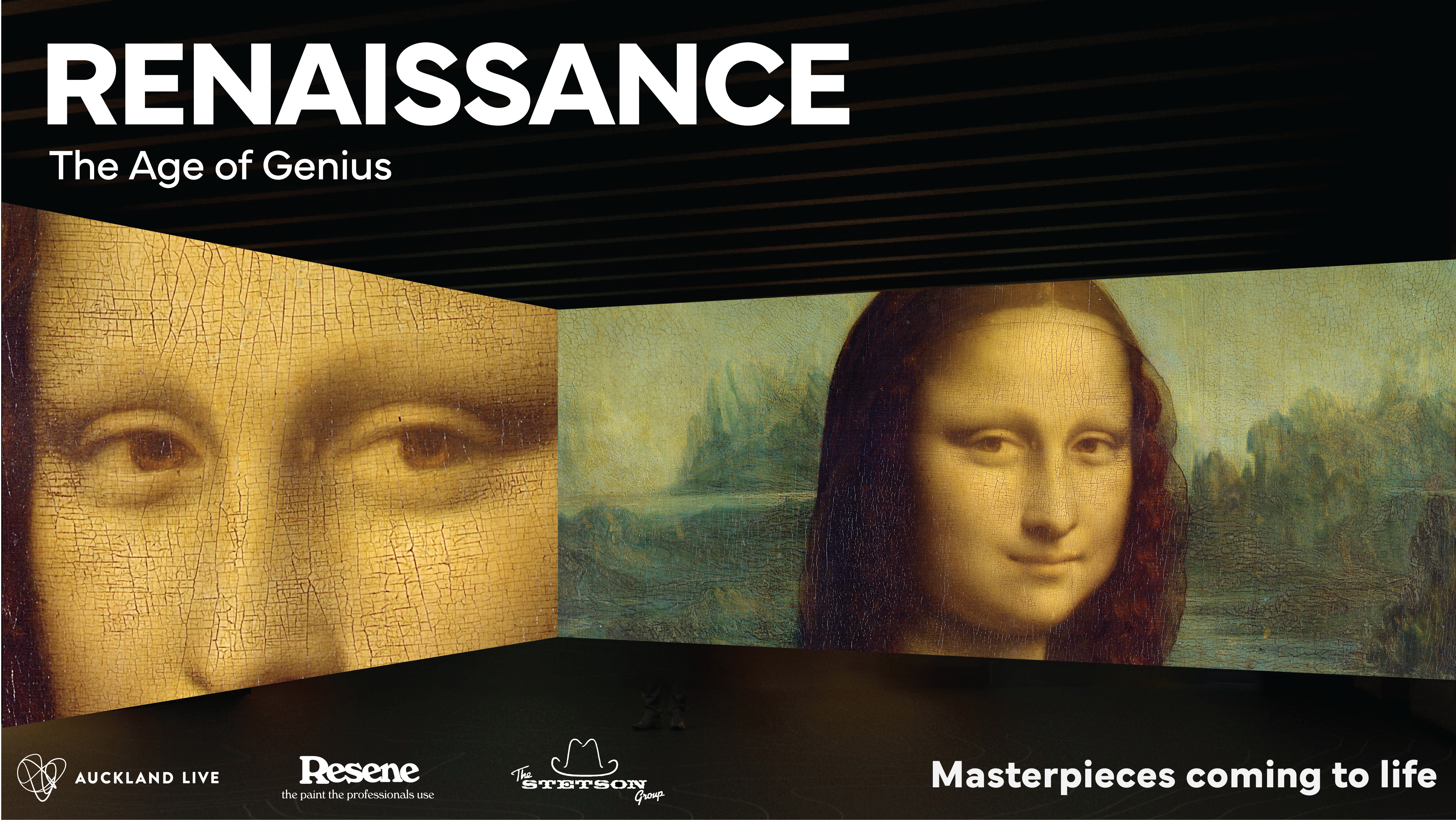 From the producers of The Art of Banksy and Michelangelo – A Different View comes the most immersive exhibition of the greatest Renaissance artists ever, in one room, in Auckland this January.
Direct from Europe, RENAISSANCE: THE AGE OF GENIUS brings to life about 500 works by unparalleled Renaissance artists including Leonardo da Vinci, Michelangelo, Raphael, Sandro Botticelli, Titian, Caravaggio, Giotto, Peter Bruegel the Elder, Lucas Cranach the Elder and Albert Durer.
These paintings from museums worldwide will be shown using specialist multimedia projection, transporting visitors along an awe-inspiring journey through the art of  the 15th and 16th Centuries.
The scale of the projection will see the artworks at roughly twice human height, thrusting viewers into the atmosphere of paintings and offering a rare insight into what was going through the minds of these geniuses hundreds of years ago.
There will be a Souvenir Booklet providing detailed information about the ten Renaissance Artists featured in this exhibition. The Souvenir Booklet will be available at the exhibition for $10.
WHERE?
Hunua Room, Level 1, Te Pokapū | Aotea Centre, Auckland
WHEN?
4th January – 12 February.
Hours: 10am-5pm, 7 days a week.  No entry after 4.30pm.
TICKET PRICE:

General admission: $39* early-bird price until Christmas
FREE ENTRY for children under 12 with a general admission ticket
Click here for any day tickets
VIP Tickets: $95*
*service fees apply
What's included with a VIP ticket?
Hear about the exhibition from a leading international expert on Renaissance Art, and receive a complimentary copy of the Souvenir Booklet
ADDITIONAL INFO:
Exhibition video runs for 40 minutes. The exhibition includes a separate screen which includes biographical information of each artist.
Frequently Asked Questions
Where can I park?
The Civic Car Park is an 828-space covered car park under Aotea Square, on the same level as the RENAISSANCE The Age Of Genius gallery. Accessibility parking is available.  Entry is from Greys Avenue and Mayoral Drive.  For more information on The Civic Car Park click here
How much time do I need to see the experience?
Experience in Europe shows that most visitors to RENAISSANCE The Age Of Genius spend around 60 minutes at the exhibition.
Can I take photos and videos?
Yes, you are more than welcome to take non-professional photos and videos inside the exhibition, but we request that you be considerate of other visitors when doing so. No flash photography. When posting images and comments on social media, please use the hashtag #RENAuckland to share your experience. No professional photography or filming is permitted.
Can I buy tickets onsite?
Yes, there is a box office on-site, but advance bookings are highly recommended. There is no Service Fee payable for box office ticket purchases, but credit card charges will apply.
Is it suitable for children?
We encourage the attendance of children by making entry free for youngsters under 12 years of age, accompanied by at least one adult.
When should I arrive?
As there are no specified viewing times, you should plan to give yourself time to relax upon arrival.  If there are queues you can pass the time absorbing the additional exhibition material at the entry, or maybe enjoy a coffee or refreshment at The Terrace Café overlooking Aotea Square. 
What is the best way to see the exhibition?
We encourage you to move around freely in the exhibition space and to take your time viewing the exhibition from different perspectives, while being mindful of other visitors in the venue. Limited seating will also be available.
Can I book a ticket for a specific time?
No, all tickets are non-date specific to allow you the ability to choose which day you'd like to attend.  Note that there might be some delay in your admittance to the exhibition dependant on capacity.
Sign up to our mailing list and receive information regarding coming tours and advance booking information.