Stewart and Tricia formed Stetson Productions Ltd in October 1973. Since then the wider Stetson Group have produced and presented shows not only in New Zealand, but also in Australia, Japan, the Philippines, South Korea, the UK and the US.
Stewart and Tricia Macpherson are proud to present, in association with Auckland Live
Renaissance – The Age of Genius
From the producers of The Art of Banksy and Michelangelo – A Different View comes the most immersive exhibition of the greatest Renaissance artists ever, in one room, in Auckland this January.
Direct from Europe, RENAISSANCE: THE AGE OF GENIUS brings to life about 500 works by unparalleled Renaissance artists including Leonardo da Vinci, Michelangelo, Raphael, Sandro Botticelli, Titian, Caravaggio, Giotto, Peter Bruegel the Elder, Lucas Cranach the Elder and Albert Durer.
Grab your early bird ticket for just $39* until Christmas, or click here for full exhibition information.
View the promo videos below
JIM STEINMAN'S ROCK SPECTACULAR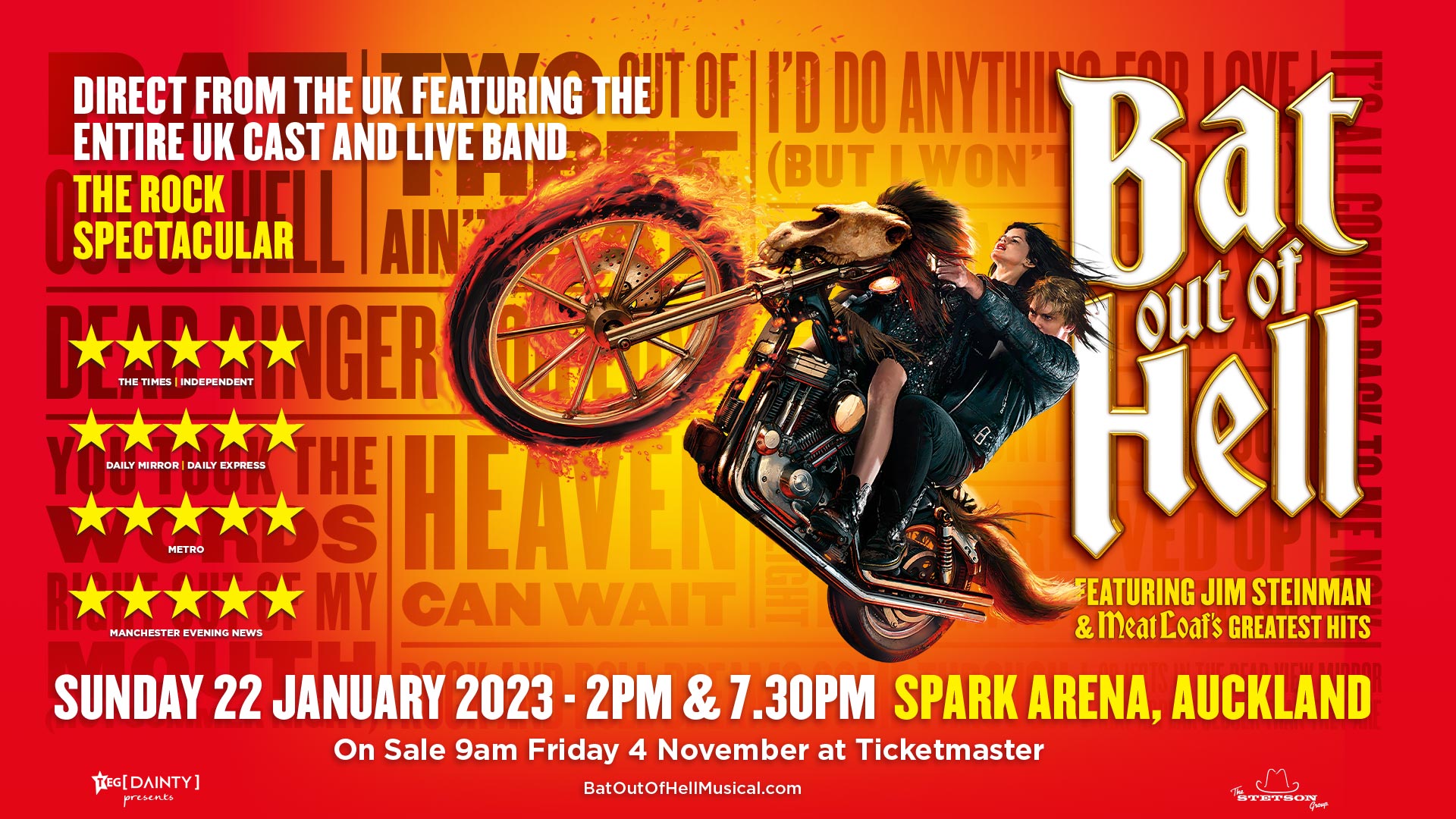 The producers of Jim Steinman's Bat Out of Hell, featuring Jim Steinman and Meat Loaf's greatest hits, are delighted to announce this musical rock spectacular will play two special one off shows at Spark Arena on Sunday 22nd January 2023.
In this stage musical, the legendary and award-winning Jim Steinman has incorporated iconic songs from the Bat Out of Hell albums, including You Took the Words Right Out of My Mouth (Hot Summer Night), Bat Out of Hell, I'd Do Anything for Love (But I Won't Do That) and Two Out of Three Ain't Bad, as well as two previously unreleased songs, What Part of My Body Hurts the Most and Not Allowed to Love.
Across two spectacular, high energy acts, the show tells the story of the Lost Boys and Girls who flee into the tunnels below the city from its ruler Falco. When his teenage daughter Raven locks eyes with fearless leader of the Lost, the immortal Strat, the immensity of their love-at-first-sight-obsessions threaten to destroy both of their families. 
Bat Out of Hell  is produced by David Sonenberg, Michael Cohl & Tony Smith, with executive producer Julian Stoneman.
View the promo video below
50 Golden Years of Musicals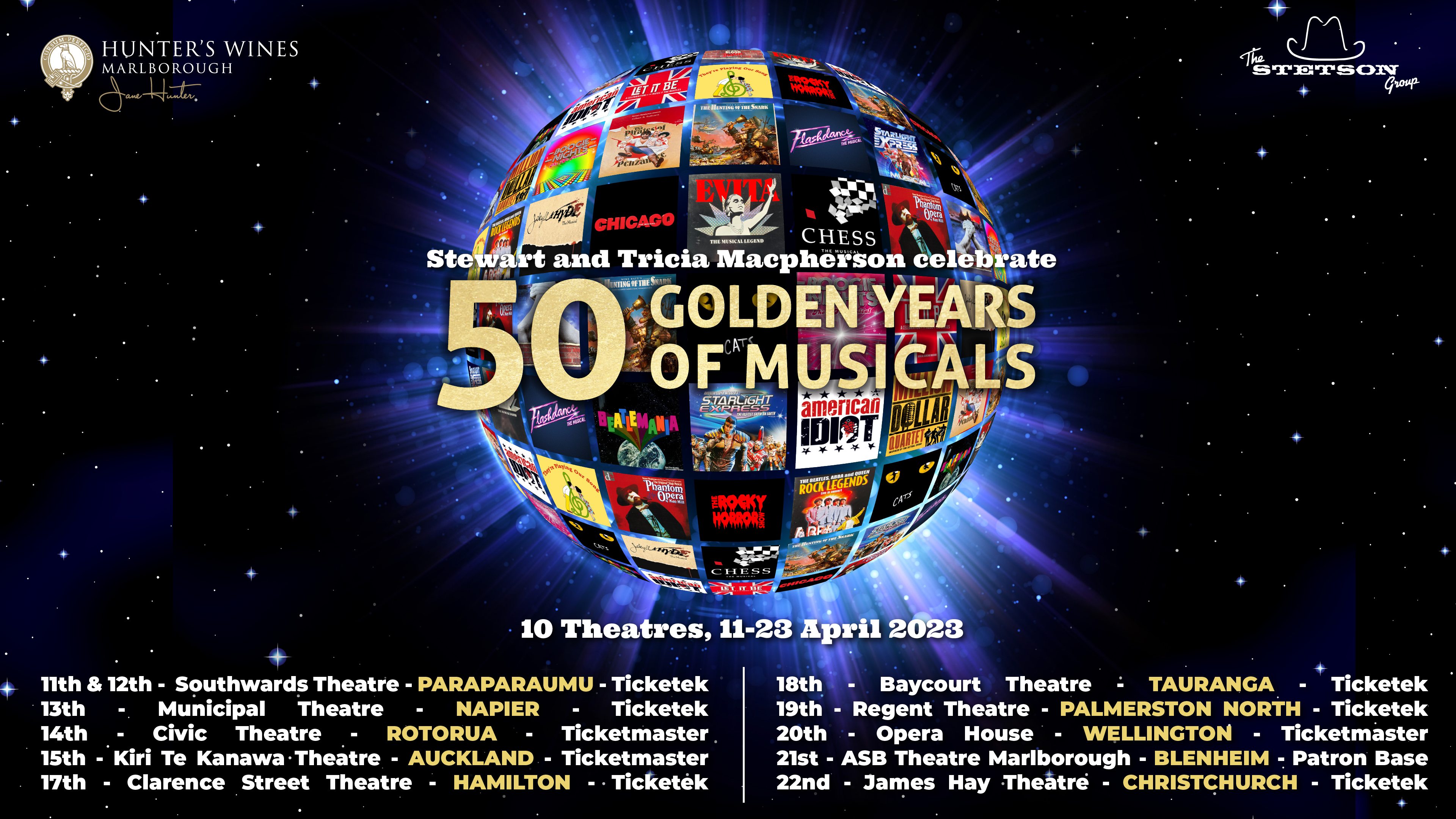 Pioneers of the New Zealand entertainment industry, Stewart and Tricia Macpherson, will celebrate 50 golden years in 2023 and to mark this amazing milestone, they will present a showstopping journey through their greatest musical triumphs.
Featuring superb singers and musicians, 50 GOLDEN YEARS OF MUSICALS will give a rare insight into the lives and loves of New Zealand's, and possibly the world's, longest-serving promoter duo.
50 GOLDEN YEARS OF MUSICALS will allow audiences to relive the Macphersons' musical journey, through songs from productions including Blood Brothers, The Rocky Horror Show, Evita, Starlight Express, Flashdance, Million Dollar Quartet, American Idiot, Pirates of Penzance, Chicago, Jekyll & Hyde and the Original Phantom of the Opera.
50 GOLDEN YEARS OF MUSICALS will be a rare treat for audiences in Paraparaumu, Napier, Rotorua, Auckland, Hamilton, Tauranga, Palmerston North, Wellington, Blenheim and Christchurch. 
View the promo video below
Sign up to our mailing list and receive information regarding coming tours and advance booking information.
The pleasure of finding the difference