Stewart and Tricia formed Stetson Productions Ltd in October 1973. Since then the wider Stetson Group have produced and presented shows not only in New Zealand, but also in Australia, Japan, the Philippines, South Korea, the UK and the US. 
12 cities in nz
27 march – 10 april 2021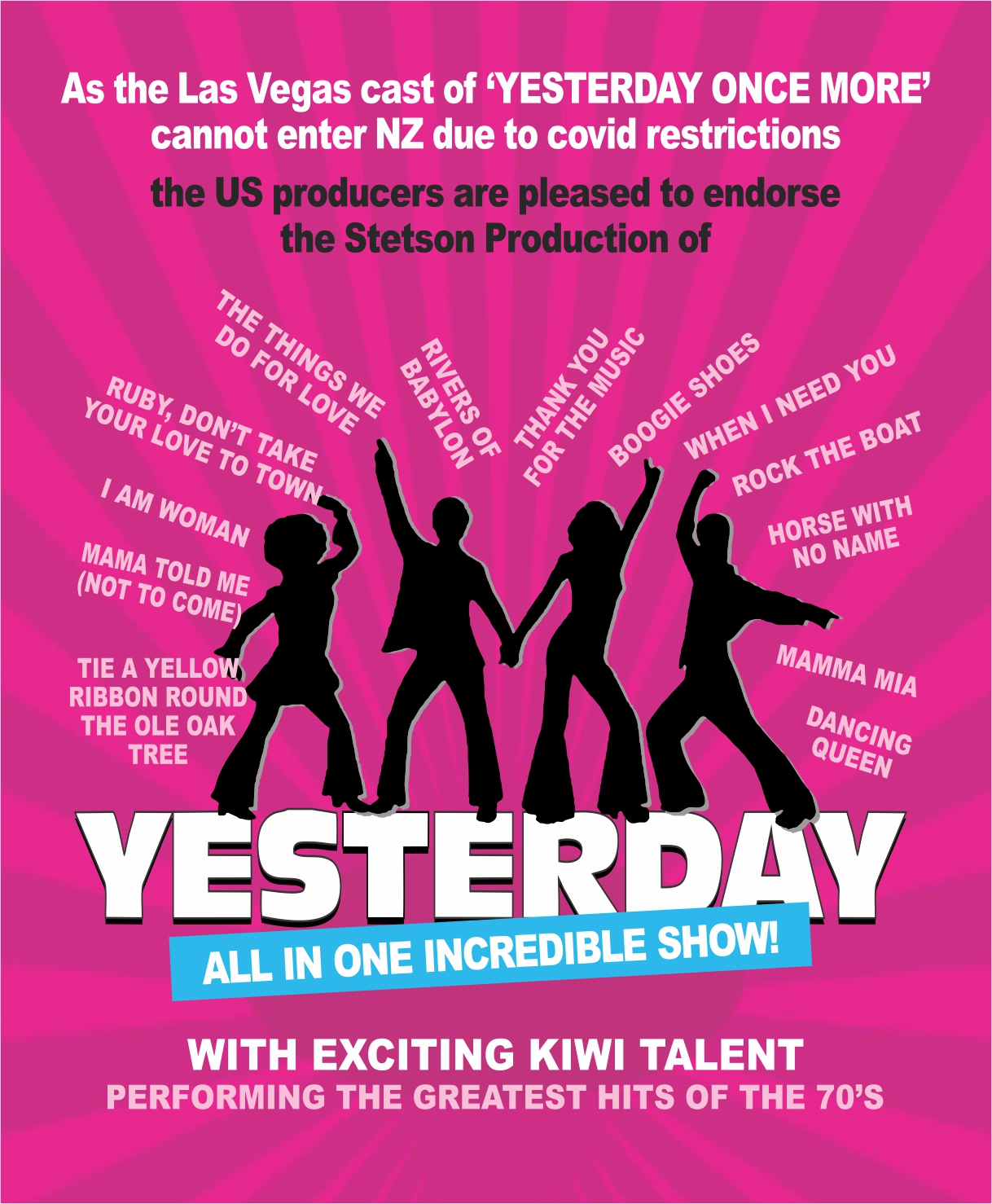 Stewart & Tricia Macpherson are delighted to announce the first Stetson Production for 2021. With the blessing of the US Producers of 'Yesterday Once More' we now present YESTERDAY.
From songs like ABBA's Dancing Queen to KENNY ROGERS' Ruby Don't Take Your Love To Town…and BONEY M's Rivers Of Babylon to LEO SAYER's You Make Me Feel Like Dancing, you'll enjoy a 2 hour show of non-stop hits, colourful choreography and informative and humorous banter.
If you believe in yesterday – as the song goes – this is the show for you!
BE A CONFIDENT STETSON TICKET BUYER
When you buy a ticket to a Stetson Production your money is held by the relevant authorised ticketing company on your behalf. We do not receive your money until after the show plays, thus protecting your funds. So, you can buy with confidence, and should a performance be cancelled, for example due to a Covid lockdown, you will get a refund.
(Ticket Rocket (now in liquidation) ticketholders may still attend using the tickets they hold.)
THE FRONTM3N have been and gone – and left lasting memories from their amazing concerts.
There were many who attended who wanted to purchase their CD – but sales had exceeded supply – and they had sold out.
All is not lost – their Management have advised that if you go online and order your hand signed copy direct from the website – you will be charged no shipping cost!!!
Sign up to our mailing list and receive information regarding coming tours and advance booking information.
The pleasure of finding the difference