POLITICS vs ENTERTAINMENT
Here in NZ, the entertainment sector has been largely decimated by the Government strategy of "elimination"; hence no prospect for international artists to perform here, which combined with harsh social distancing rules in venues, makes the business almost impossible. Some might argue that this strengthens the prospect for domestic talent to do better – which is good – but the social distancing rules constrain how many people they can perform before.
It is interesting to note that in the UK, even though there coronavirus situation appears to be worsening, their Government recognises the mental health value of entertainment, and is supportive. Below is an extract from The Stage newsletter of today's date.
Theatres exempt from 10pm curfew, government confirms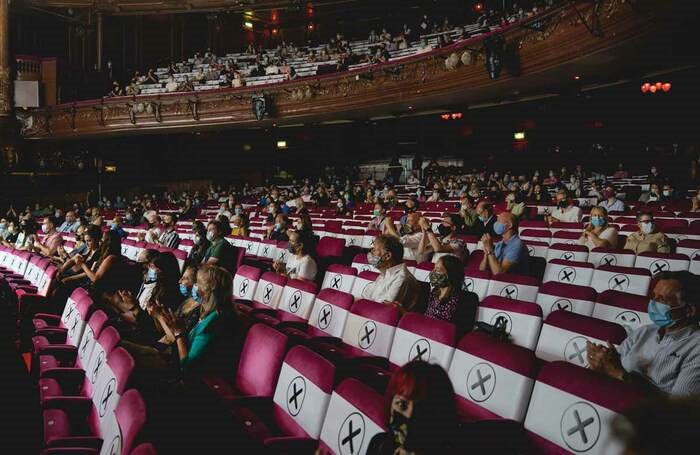 Audiences at 30% capacity at the London Palladium for Andrew Lloyd Webber's socially distanced test. 
Theatres in England operating under Stage Four of the reopening roadmap will be able to continue uninterrupted, despite the stricter restrictions announced today by prime minister Boris Johnson.
However, Johnson has indicated that the raft of new measures intended to curb the spread of Covid-19 are likely to last for the next six months, casting doubt over the prospect that theatres may be able to reopen fully this year.
Culture secretary Oliver Dowden confirmed that theatres and other live performance venues are exempt from new regulations and "may run over the 10pm deadline", which will see curfews imposed on pubs and restaurants from Thursday (September 24).
This means current or planned productions can go ahead uninterrupted for now. The Department for Digital, Culture, Media and Sport have confirmed that while performances do not need to adhere to the curfew, they must have started before 10pm, and alcohol cannot be served after 10pm.
In a statement to the House of Commons, Johnson did not rule out further measures in future, if the R number does not come down below one and public behaviour does not change. 
He said the UK is at "a perilous turning point" in the fight against coronavirus, warning that restrictions could be tightened "significantly" if the situation does not improve. 
However, he said the "vast majority of the UK economy can continue moving forward" despite the new restrictions, and emphasised the need to "shelter the economy from the far sterner and costly measures" that would come from a full lockdown.
Asked about hard-hit sectors such as the arts and hospitality, Johnson said the government "will of course do more" to protect them, emphasising the government's £1.57 billion rescue package and adding: "We've got to push down on the R while simultaneously allowing much of the economy to flourish as we possibly can."