NINE – what's that?
How about 8½+ ½?
Actually Nine is a musical, initially created and written by Maury Yeston as a class-project in 1973. It was later developed with a book by Mario Fratti, and then again with a book by Arthur Kopit, music and lyrics by Maury Yeston. The story is based also on Federico Fellini's semi-autobiographical 1963 film 8½. It focuses on film director Guido Contini, who is dreading his imminent 40th birthday and facing a midlife crisis, which is blocking his creative impulses and entangling him in a web of romantic difficulties in early-1960s Venice.
The original Broadway production opened in 1982 and ran for 729 performances, starring Raul Julia. The musical won five Tony Awards, including Best Musical, and has enjoyed a number of revivals.
In 1992, the largest production of Nine  was presented in concert in London at Royal Festival Hall with Jonathan Pryce with Elaine Paige stepping in as Claudia. In 2003 the Broadway revival ran for 283 performances and won two Tony Awards, including Best Revival of a Musical. The cast included Antonio Banderas as Guido (who received a Tony Award nomination). The Australian premiere of Nine was staged in Melbourne at the Comedy Theatre in 1987. John Diedrich produced, directed and starred as Guido Contini.
The film version was released in December 2009 in New York and Los Angeles and opened for wide release on December 25, 2009 with a stellar cast of Academy Award winners Daniel Day-Lewis, Marion Cotillard, Penélope Cruz, Judi Dench, Nicole Kidman, and Sophia Loren, with Academy Award nominee and Golden Globewinner Kate Hudson and Grammy winning singer Fergie.[24] The script makes Guido 50 (Day-Lewis's actual age), not 40 as in the stage original. The film's final coda is more hopeful and optimistic than the stage version.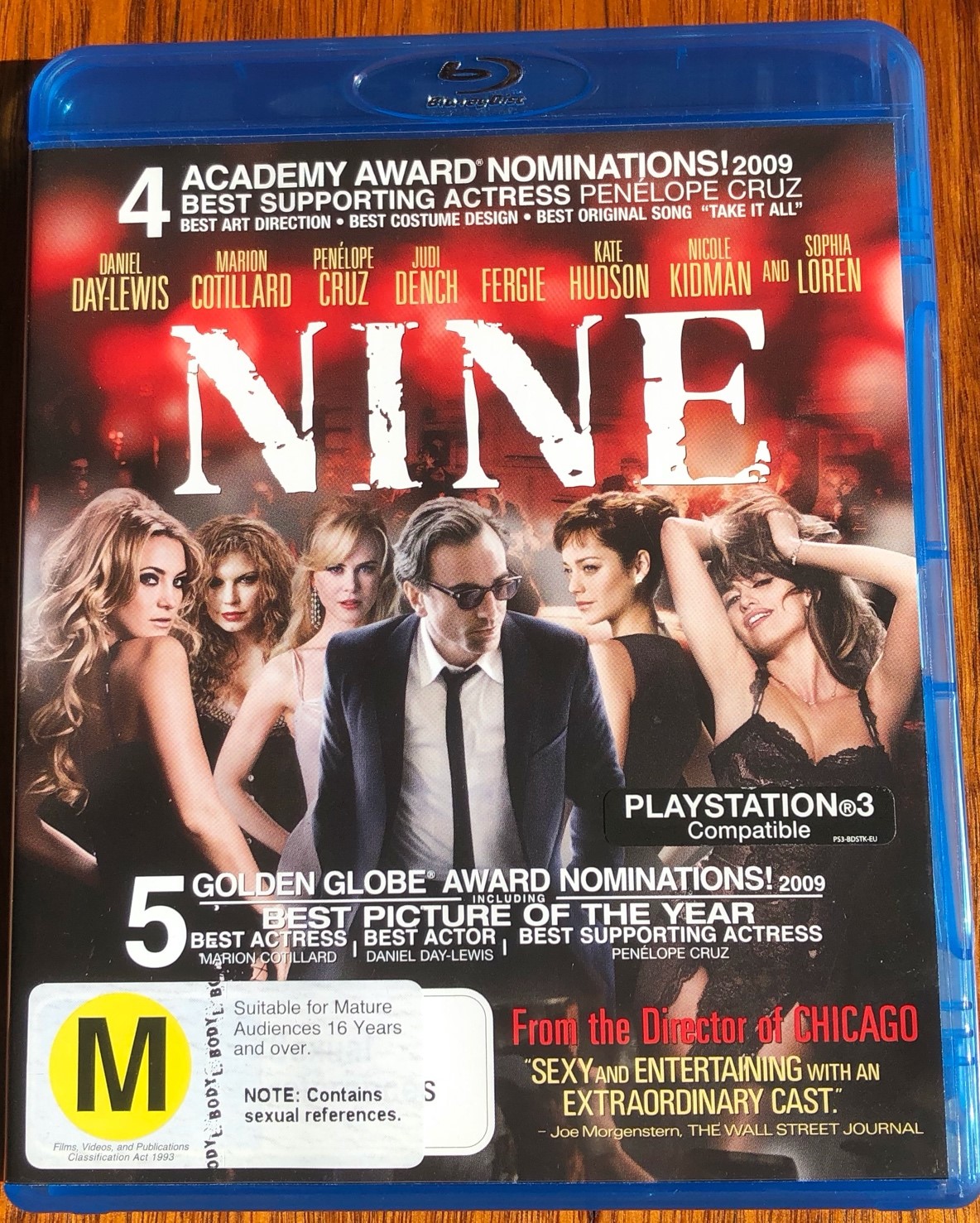 The movie was released on Blu-Ray, and if you can get it – turn up the volume and envelope yourself in a brilliant show-biz story.